19. SVISHTOV MUSEUM OF HISTORY
Location:
Archaeological exhibition, Svishtov
10 D. Shishmanov Str.
phone: +359 631 60467
novae@abv.bg
| | |
| --- | --- |
| GPS: | |
Opening hours:
08:30-17:00 /Monday-Friday/ Saturday and Sunday: upon request
www.istoricheskimuzei-svishtov.com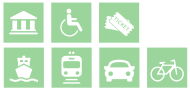 The archaeological exhibition is dedicated only to the Roman military camp and the early Byzantine town of Novae. Arranged on a thematic and chronological principle, it provides an insight into both the scope of the Roman expansion and the resemblances in everyday life and culture in the various provinces of the Empire. In one of the halls, a special emphasis is laid on the museum's rich collections of hair pins and needles, bone and bronze orna­ments, small bronze sculptures and coins.