21. VELIKO TARNOVO REGIONAL MUSEUM OF HISTORY
Location:
Archaeological Museum, 5000 Veliko Tarnovo, 2 Ivanka Boteva Str. phone: +359 62 682 511; +359 885 144 304
rimvt@abv.bg
| | |
| --- | --- |
| GPS: | |
Opening hours: 09:00-18:00 /April-October/ 09:30-17:30 /November-March/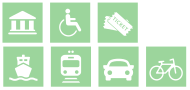 The Veliko Tarnovo Archaeological museum showcases the large urban, military-administrative and economic cen­tres that existed in the region in Antiquity. The exhibition illustrates their history and their place in our cultural and historical heritage. Original exhibits and photographs reveal various aspects of the material culture of the Roman city of Nicopolis ad Istrum, the Roman military camp Novae, the centres for the production of artistic, domestic and building ceramics at Pavlikeni, Butovo, Hotnitsa, Byala Cherkva, the Peritensium and Discoduraterae emporia, the early Byzantine town situated on the hills of Tsarevets and Momina Krepost.
The most impressive among the exhibited monuments are: the collection of pottery vessels and moulds dating back to the 2nd-3rd centuries; votive tablets with images of ancient Greek, Thracian and Roman deities; bronze sculp­tures; engraved gems and cameos made of precious and semi-precious stones; ornaments and more.