36. MUSEUM OF OLTENIA, HISTORY-ARCHAEOLOGY SECTION
Location:
14 Madona Dudu street, Craiova
phone: +40 351/427861
istorie_arheologie@muzeulolteniei.ro
| | |
| --- | --- |
| GPS: | |
Opening hours: 09:00-17:00 /Monday-Sunday/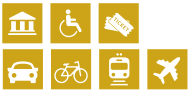 The Oltenia Museum is founded in 1915 as the Ethnography and Antiquities Museum of Oltenia, in a building constructed in 1905, and the archaeology department was created in 1926. The museum currently hosts more than 20 collections totalling 170,000 items of numismatics, medallistics, memorial objects, etc. The collections of archaeological items include items from the neolithic age, from the metals' age, from the Dacian civilization with Greek-Roman influences, as well as Roman provincial art items.
The numismatics collection includes the Roman republican treasures of Tzicleni (Gorj), Farcashele (Olt), Ishalnitza and Carna (Dolj); the Roman imperial treasures of Barca, Galicea Mare, Tunarii Vechi, Slaveni, Dobridor Leurda (Gorj), Butoiesti (Mehedinti). The treasure also includes Roman adornments.